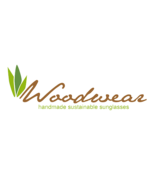 Eco-friendly & handmade 'wearable art'
Based in Hermosa Beach, Woodwear is inspired by the surrounding beach culture and amazing natural landscapes that California has to offer. Describing what they do as '

wearable artwork

', Woodwear creates sunglasses out of

sustainable bamboo

. Due to its rapid regenerative properties and fast maturation process, bamboo is an environmentally superior material. It's moisture resistance and durability mean the product performs better than hardwood in the long term. Woodwear also donates a percentage of each sale to organisations that help others, supporting a new cause every few months.